First and formost these are lessons I learned and how I learned them.  Who am I to tell you what works for you.  I certainly don't want to give anyone advise, this is my blog on the history of fashion ( I've researched for many years the many areas of fashion,  the fun and off the wall history.)  This will be about "Real Fashion" not what some call fashion now days.
I was planning on sharing this right after the New Year but one month later here it is.   I will still share with you my New Years Resolution. It's shopping my closet for the next month.  Instead of running to the mall or picking up my phone to shop my favorite shops  (Anthropologie, Free People Etc).  I thought I could try three months but wanted to make a realistic resolution not something I would end up binging on.  Well January has come and gone and I did it!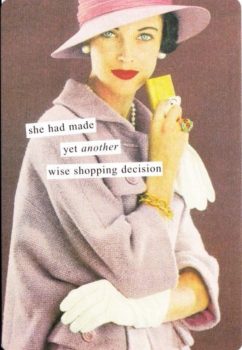 I have to admit I am a shopaholic, also know as compulsive shopper and I don't use the phrase lightly.  Rarely is there a time I would go out and not buy something for myself and as I look at my closet the more I realize the insanity of it all.  I've looked up the meaning of a "Shopaholic" and there is alot of meanings in the cyberworld however the defination is, "a person considered to be addicted to shopping."  Go figure.
I've come a very long way from hiding my purchases, sending my packages to friends houses, maxed out credit cards, ( You could say Becky Bloomwood the 2nd)  if you knew the story of my creditor and his name "Chad" you would have quite a laugh but it was no laughing matter at the time.  (I pay cash only now, I don't do credit EVER) I can say I had to learn my lesson the hard way.  So if I don't have it to spend it, I don't get. (sad face, pouting, sometimes wanting to stomp my foot like a kid) That's part of growing up and the part I had to realize I had to change if I wanted to see any change in me. Many people who know me still believe I'm a shopaholic and its true I do love to shop but I have limits now.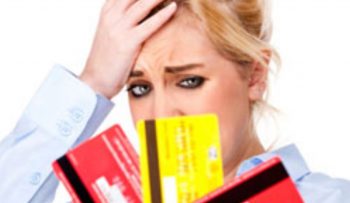 One of the ways I curbed some of my impulse shopping was I decided that once I tried the clothing on if I immedediately did not love it, it was not bought.  No more, "oh if I lose 5 pounds it will look great", or If it needs tailoring, it gets put back now. (I'm the worst at this and so guilty).  Also I stopped letting sales people try to get me to purchase what I'm trying on by telling me how WONDERFUL it looked on me, remember most of these sales associates get commission. (Not all but the persistent ones)  I've bought under pressure before and after buying thinking "why did I do that?"  Then my ultimate is the dreaded all around mirror.  I make sure to look at the front and back many times the front looks fine, the back is a totally different story! HA that mirror has been the cause of many put backs for me.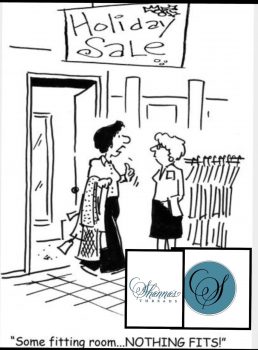 So now my closet is my store for the time being, funny thing is I am finding things I was thinking I needed to go out and buy.  Purging time I am DONE!  If I haven't worn it within the past year or so then I'm not going to and its got to go. From the forever 21 cropped top ABC sweatshirt, Contempo casuals 90's vest, Style & Co tube skirt ( I can't believe I had that still) these are just examples of some very old items, ok maybe not the Forever 21 top.  I'll be 40 this year and two of these items were bought when I was a teenager!
I pull out sweaters and I think,  "oh I can take this apart and make into a cardigan" that went into the donation bag, I pull out jackets that look like they were from the 1980's, serious no joke, that went into the donation bag, I pull out hoodies that I bought from every vacation with the location stamped on the side. Each hoodie is pretty much shrunk from drying (what am I doing with these in my closet?) Yes wonderful memories however my photos can give me those memories. I could go on and on about what I am finding and really the comedy of it all. What do you have in your closet? How far back in years can your closet go? Don't get me wrong I don't buy clothes and only wear them for only a year, thats just crazy to me.  I have some amazing clothes I could never let go of and seriously who does that?
Years ago I used to pay my nieces to come over and organize my closet, or put it back into working order.  It was just too overwhelming for me being a stay at home mom of two, a special needs little girl and a crazy rambunctious little boy.  They would do amazing and put all my clothes color coordinated by, sweaters, tops, layering tops, hoodies, dresses, skirts, etc. My nieces would also purge my closet holding up items of clothing in question saying, " really auntie?"  Giving me a look like can we please throw this out.  We would either have a laugh or I would say,  "HEY, I love that!".  It was so nice and made it so easy to find what I was looking for.  Ever since then I've tried to keep it the same but have failed miserably many times, I wish there was a closet organizing company you could trust out there, HA!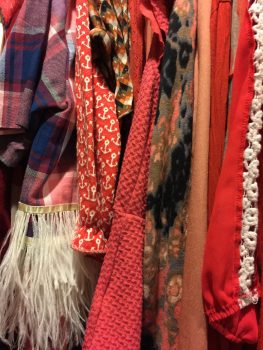 In going through my clothes to be donated or given to friends I thought how funny we can be when it comes to clothing sizes.  My personal feelings are, don't worry about the size of your clothes,  I have clothes in all kinds of size's,  I don't care what size it is as long as it fits and fits correctly.  I think many people make that mistake and think they have to buy this one size no matter what when no one else see the size just the fit. I'd much rather wear a size 12 and have the clothes fit nicely then squeeze into a size 8 then have rolls and lumps showing just to claim I can fit into a certain size.  Depending on the designer or brand of clothing, clothes can be very complicated in sizing.  Thats why when customers ask me, "Is this true to size?"  To me there is no true to size I tried looking up the defination of TTS (true to size) its hilarious, thats just what they state it is, "true to size".  There is so many body types that you have to settle for juniors, misses, and plus sizes then just measure and hope people know there measurements.  I myself dislike the feeling of  having to pull, tug or adjust any type of clothing that I might be wearing due to ill-fitting clothes.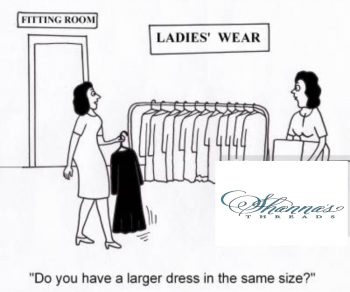 Back to my closet adventures,  I've given away 6 large bags and have so much more to do.  I used to sell on Ebay, tried the Poshmark thing, even did a few months on a Instagram closet sell's.  Life just gets so busy at times I think I could be getting money back on all I'm giving away but now I think of it in another way. Maybe I can bless someone else with my over indulgence as God has blessed me more then I deserve.